this site has news about miscellanea that i enjoy.
if you have news for me submit it
---
New Terminator Films...

Two[2] new Terminator films are going to be made. Whether Arnold Swartzenegger will be in either of them is still not decided. Mario Kassar and Andy Vajna boughtthe rights to Terminator from a bankrupt Carolco in 1997 for $8 million, and they hope to use these sequels to launch their new company, C-2 Pictures. T3 should start filming in 2000 and be released in 2001. As plot goes, T3 will be set during the year 2001, and will cover the first battles between the rogue AI Skynet and the humans it seeks to destroy. The fourth film will pick up the story after the nuclear apocalypse, following the surviving humans hiding out in the ruins.
---
Final Fantasy Anthology...

Final Fantasy Anthology for Playstation is now out...
It contains Final Fantasy V and VI (previously released as Final Fantasy III).
As well as a soundtrack cd.
---
Matrix Script Book...

A Matrix Script Book with the script, storyboards and other stuff. It's supposedly 500 pgs
---
Flying Circus...

Apparently, they're re-releasing all the Monty Python Flying Circus Volumes 1-8 on Video and DVD.
They'll be coming out on Sept. 28

Here's Amazon.com's list, which seems more complete right now (9/18) than the one below.
Here's a list from Reel.com
---
Yellow Submarine...

The animated Beatle's movie "Yellow Submarine" is being re-released. It will now include a previously unreleased "Hey Bulldog!" scene. However on the VHS version when restoring "Hey Bulldog!" they deleted "Baby You're a Rich Man" (my favorite part). However, "Baby You're A Rich Man" has been added to the re-released sountrack along with a few other tracks.

Buy the DVD from Amazon.com
Buy the Video from Amazon.com
Buy the Soundtrack from Amazon.com
---
Playstation 2...

Here are the stats of the upcoming playstation 2 due out March in Japan.
It will be able to play DVD.

• Dimensions: 301mm (W) X 178mm (D) X 78mm (D); 12-inch X 7-inch X 3
• Weight: 2.1 Kg (4 lbs 10 oz.)
• Media: PlayStation 2 CD-ROM, DVD-ROM, PlayStation CD-ROM
• Formats Supported: Audio CD, DVD video
• Interfaces: Controller Ports(2), Memory Card slot,(2), AV Multicable Output(1), Optical Digital Output(1), USB port(2), i.Link (IEEE1394)(1), Type III PCMCIA card slot(1) • CPU: 128 bit Emotion Engine
• System Clock Frequency: 294.912 MHz
• Main Memory: Direct RDRAM
• Memory Size: 32MB
• Graphics: Graphics Synthesizer
• Clock Frequency: 147.456 MHz
• Embedded Cache VRAM: 4 MB
• Sound: SPU2, Number of voices: 48ch plus software
• Sound Memory: 2 MB
• IOP: I/O Processor
• CPU Core: PlayStation CPU+
• Clock Frequency: 33.8688 MHz or 36.864 MHz (selectable)
• IOP Memory: 2 MB
• Disc Device: CD-ROM and DVD-ROM
• Device Speed: CD-ROM 24 times speed; DVD-ROM 4 times speed
---
Indiana Jones sequel...

An Indiana Jones sequel is being planned for 2004, or 2005.
---
GameBoy Advance...

A new version of GameBoy is due out Christmas, 2000.
Tentatively, it's being called GameBoy Advance.

Official specifications -

• CPU: Memory embedded 32-bit RISC CPU (CPU core design by ARM)
• LCD: Reflective TFT Color LCD
• Display Size: 40.8mm x 61.2mm
• Resolution: 240 x 160 pixels
• Maximum colors to be displayed simultaneously: 65,000
• Size: Approximately Height 80mm / Width 135mm / Depth 25mm
• Weight: Approximately 140g
• Power Supply: 2 AA Alkaline batteries
• Battery life: 20 hours continuous play
• Launch date: August 2000 in Japan, Christmas 2000 in North America and Europe
• Suggested Retail Price: To be announced

Check out nintendo.com for the press release.
---
Apple PowerMac G4...

PowerMac G4s are coming out. They are 2-3 times faster than Pentium !!!s.
Find at more at www.apple.com
---
PaRaPPa Sequel...

A sequel for Parappa the Rapper is now out on playstation.
It's called "Um Jammer Lammy".
---
Matrix Sequel Release Date...

The Matrix Sequel is set for Fall of 2000.
---
Pikachu Beetle...

With the help of Pro-Body Works, and Xtreme Graphix, Nintendo has created a Pokémon Version of the Volkswagen Beetle.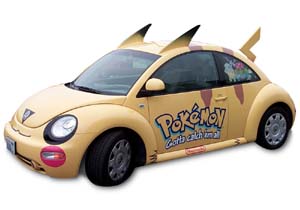 ---
Blair Witch Prequel...

A prequel to the Blair Witch Project has been confirmed for next Summer
---
Pokémon: The First Movie...

The Pokémon Movie (Pokémon: The Fisrt Movie, previously called Mewtwo Strikes Back, will be in theatres in the US November 12.

Preceeding the film will be a 28 minute cartoon called "Pikachu's Summer Vaction

In this movie you will see Pokémon #151-155

For more information and the trailer see our pokémon site
---
Chrono Trigger for PSX...

A ported version of Chrono Trigger is due out in Japan in the Fall.

This new version will contain new Anime scenes
It may or may not be released in the US.
---
Matrix DVD...

The Matrix DVD is coming out September 21st.

It is packed with extras:

Edition Details:

• Region 1 encoding (for use in US and Canada only)
• Color, Widescreen, Closed-captioned, Dolby, Collector's Edition
• Commentary by Carrie-Ann Moss, editor Zach Staenberg and visual effects supervisor John Gaeta
• Commentary by composer Don Davis (music only)
• Behind-the-scenes material, production notes
• Theatrical trailer(s)
• Documentaries: HBO First Look: Making the Matrix, What is Bullet Time?, and What is the Concept?
• "Follow the White Rabbit" to Nine Behind-the-Scenes Featurettes
• Isolated Music Score with Commentary by Composer Don Davis
• Widescreen anamorphic format

The Letterbox and Widescreen VHS versions will not be available until November 23 December 7.
---
Pokemon Gameboy...

A special version of Game Boy Color, inspired by Pokémon, is going to be released c. October 25, 1999, bundled with Pokémon: Yellow Version (a.k.a. Pikachu Edition). This version is very similar to the Red and Blue versions of Pokémon, but revolves more around the television series.

Instead of choosing from Charmander, Squirtle, and Bulbausar in the beginning of the game, you get to pick Pikachu. Pikachu does not go in his Pokéball; instead, he follows your character around on the screen.

This game will also feature Jesse and James of Team Rocket, with their appropriate Pokémon (Ekans / Koffing and later Arbok / Weezing.) All of the Pokémon icons have been redone, and the game colorized for the Game Boy Color system. Compatibility issues, such as whether or not you can trade with the Red/Blue versions of Pokémon, is not yet known.

this information was submited by cYKé (website) (e-mail)
---
final fantasy 8 is to be released soon...

Probable dates: 9.9.99 and 9.8.99

Un-Probable dates: 9.7.99 and 9.30.99
---
matrix trilogy...

there are to be 2 sequels for the matrix to be released months between each other.
the plot may entail the real world of the rebels being a construct of the matrix

zion will probably be portrayed in this next film
---
jurassic park 3 is/will be made...

it will probably be released in 2001
the plot may entail dinosaurs...
spielberg came up with the idea he will not direct it...
it will be directed by the guy who directed jumanji
---
a sequel to chrono trigger is in development...

it's called chrono cross.
you can find out more information about chrono cross at ff8.org